Baze's is on a mission to solve the #1 root cause of death in the US: nutritional deficiency. Our product connects our at-home blood tests (the right data) and personalized daily supplements through a digital backbone (app, ops, algorithm) to deliver meaningful, measurable impact for our customers.
I joined Baze as a UI/UX designer when the product was a great idea, some users tests, and a bunch of PDFs. I led the design activities of the company from the ground up – eventually being promoted to Product Lead, leading the team that built the product from scratch.
1.  Product Management (process, planning, and strategy)
2. Team Leadership and Management
3. Product and Service Design
1. Building a human-centered product design process
We created an inclusive and transparent process that empowered our team to bring their expertise to bear in solving the problems most meaningful to our customers and the business. This demands that folks not just knowing what to work on, but why it's important.
Organisational and process design as a driver of product experience
Working closely with my peer in engineering, we took a product design approach to org and process design – building our structure through iteration and experimentation. The goal has always been: to improve our decision making and estimating faculties.
We learned a lot along the way and now have a fairly robust system in place.
Our Principles
• Lead with problems to solve not solutions (Jobs to be Done theory)
• Scope is an essential ingredient to estimating
• Prioritization requires good data, context, and trusting our guts
• The highest value learnings come from doing
A focus on job to be done; a discovery process geared towards testable solutions
In the backlog, we eschew feature-focused user stories in the first round to focus on the problems we're solving for our customers. Once a problem is prioritized for Discovery, ideation workshops with key experts and additional research streams are spun up to surface potential solutions. Once a hypothesis is reached that we feel good about, features return to the backlog for implementation prioritization.
Of course, life on the ground is often messier than our flowcharts let on, but a core process has given us the freedom to move quickly, experiment, and endeavor to find which features move the needle on our customers' needs and company goals.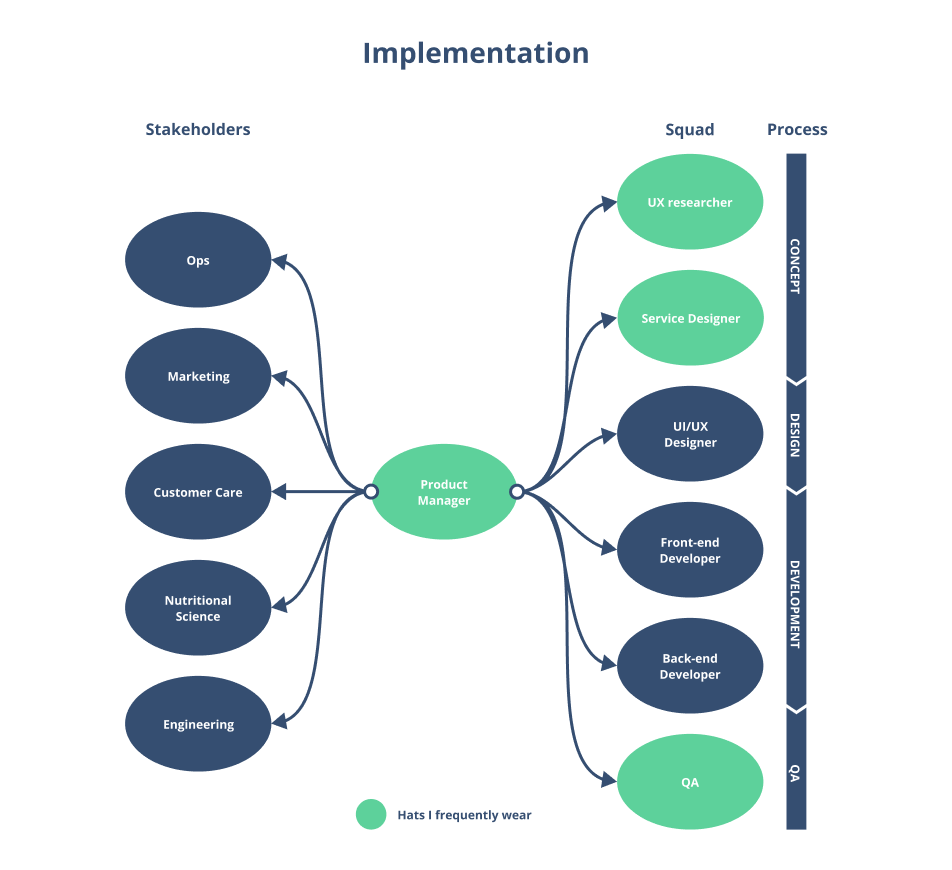 An inclusive process with clear ownership
As Baze has grown, squads naturally evolved out of relatively flat hierarchy and the interests and domain expertise we had, hired for, and nurtured on our team. The VP of engineering and myself formalized this nascent structure for its power in helping us balance resources and support team members in their professional growth. 
Stakeholders are involved frequently to capture insights early and often. Whether it's gut-checking a solution that our support team championed, involving a nutrient scientists in QA of a new algorithm, or learning from our influencers (and making sure our influencers don't make erroneous claims about our product), we're closing the loop on our ideas and using the design process to build camaraderie on the team.
2. People management is product management
I believe that people are the essential ingredient in building a great product. In my experience, investing in empathy and trust is they key to finding the right people and supporting them in working towards a shared goal.
Hiring the right people
After being involved in or spearheading over a dozen hires, I canonized our five core learnings into a list of hiring human-principles. The goal was to set a tone not just for our hiring process but also to use this as a culture-building tool, affirming a set of standards, commitments, and beliefs from day one.
Investing in the people we have
I have found that a few simple process here go a long way: quarterly, clearly delimited, two-way performance reviews paired with weekly check-ins and, for core-team, daily standups. These keep lines of communication open, let us set and follow up on goals, and help me and my team continue to grow in our careers. One of my favorite things about leadership is how much I get to learn from the brilliant people I work with.
Most of all, it's how I've wound up building lasting relationships with some of the coolest people I ever met.

Leadership, to me, is about working to set the tone with my own actions first. 
I thrive on building relationships and learning from the people around me. And I've found that this trait has served me well in leadership roles. Put simply I enjoy people, I'm empathetic, and I work on prioritizing the people around me. This looks like staying late for an impromptu chat, watching for when folks are overworked or tired and making sure we have a reasonable amount on their plates. And, it's owning when it workloads get unreasonable and not forcing the team to pick up the slack of a broken system.
Learning curve and teaching folks to fish
One challenge for me, being so hands on, was learning to taking the time to teach people to solve their own problems rather than to solve problems for them. This looks like providing people with context to their questions, the right tools, 1:1 time, formal training, pairing and mentorship. Whether it's teaching a nutritional scientist to use Git or our support team to use Figma – I've found that empowering people creates shorter paths, less bottlenecks, satisfaction in self-sufficiency, and valuable new sources of ideas and perspectives in the process.

The Design Team: Building a voice and space for design
Building our design team, in partnership with our creative director, has been one of the best investments I ever made at Baze. It's created a place of camaraderie, inclusivity, and learning for the designers at our company with payoffs at all levels. It takes the form of regular show-and-tells, a weekly meeting, and a #design watercooler channel on slack.
The design team is fundamentally interdisciplinary and so folks of all skill levels are learning from each other and improving the depth and breadth of their craft. A new designer taught a veteran about instagram stories. A UX designer from product helped the marketing team improve the form validation in our checkout flow. And it made hiring easier because we can now offer a larger peer group for folks to learn from and collaborate with.
Together, we've kicked off major initiatives like a design system, a rebrand, and a reconfiguration of our foundational pricing model. By combining our perspectives, struggles, and frustrations we find opportunities to improve processes and solve issues that we only realise are chronic or fundamental when we have a wider perspective.
3. Product and Service Design
The Baze product, as a set of functional parts, is an at-home blood test, an app that guides the experience, and daily supplements. As an experience, it's a habit altering, paradigm shifting product that supports positive change in our customer's lives. I either directly designed or led the design of every part of this product. The following are a selection of case studies featuring interesting challenges we are working on.
The at-home blood test
The whole user lifecycle hinges on the success of thi test. It's the easiest blood test on the market by a long shot, but it's still blood testing from home  and there are a lot of potential failure points. When something goes wrong it takes a moment of excitement and brings the whole process to a halt, undermining trust and frustrating our users instead of delighting them. Plus issues here cost Baze a ton of money in additional shipments, lab processing, and replacement kits.
So we've invested heavily here. As a result, our testing experience is now a major moat for us in the market.
A dynamic app feed to guide a dynamic UX
We learned early on that there is no singular path through our product. Different subscription plans, nutrient levels and supplement needs, vacations, habits, errors, and more all all up to myriad pathways for Baze to taking in our customers' lives.
But with so much variation, we heard time again from our early customers that they felt lost in the process and needed guidance.
Working closely with the engineering team, I architected a feed service that provides a clear narrative for customers along their journey, within a structure that is maintainable and scalable by designers and developers alike. It was envisioned as a foundational feature and the service has continued to flourish as we've thrown new requirements at it.
The core tenet of our design docs is that they must be accessible to anyone in the company from support team, to CEO, to engineer, to intern, to designer, to nutritional scientists. This pushes us to create solutions that are simple to understand internally as well as externally. And that helps make our features more critiqueable, supportable, maintainable, and scalable. 
Ultimately, this focus on boiling down a service to it's essential clockwork, empowers us to spend more time focusing on the end-user's experience.